Show up as equal.  Project positive energy.  Never stop learning.  These themes framed the International Women's Day forum hosted by the PCMA New England Chapter on March 8 and moderated by Greater Boston Convention & Visitor Bureau (GBCVB) Executive Vice President Hilina D. Ajakaiye.
Ajakaiye, who is marking her one-year anniversary with the GBCVB, facilitated a wide-ranging and provocative conversation.  The panel included Gissell Moronta, VP of Sales & Marketing for Atrium Hospitality, Hermela Belachew, Owner of Behind the Design, and Joanne Dennison, Educator at The Meet Guide.  The discussion was an inspiring blend of topics, from the pandemic and recovery to long-standing, yet evolving, notions of gender identity and dynamics in both the workplace and society at large.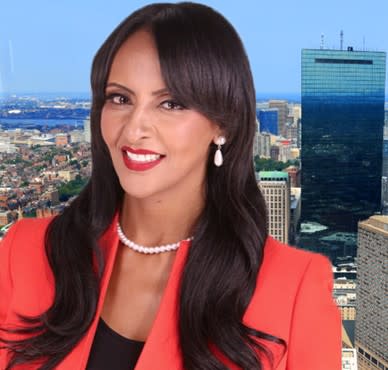 Hilina Ajakaiye | Executive Vice President of the Greater Boston Convention & Visitor Bureau (GBCVB)
Following welcoming remarks from PCMA New England Chapter President Kelley Juarez, Ajakaiye asked each panelist to reflect on how the COVID-19 pandemic has changed their reality, and how they have adapted.  Each panelist chose to share a silver lining that has emerged during the crisis.  For Moronta, whose pre-pandemic life involved a ubiquitous airport presence as she traveled from hotel to hotel, she discovered last year more time for personal focus and embracing change.  Dennison was able to tackle a long to-do list and create new directions for her company.  And for Belachew, who must assure anxious brides while navigating the unknown, it was a time to reflect.  All panelists underscored this point – the COVID-19 era reminds us that mental health is paramount, and to take a moment to "stop, pause and park mentally."  This mantra can provide a much-needed catharsis.
Ajakaiye asked about attrition and the toll that the pandemic has taken on women workers, particularly Black and brown female workers.  She asked the panel to address attrition through a broader lens of gender and what it means to be a woman in the workplace.  This question engendered a tremendous, and disparate, range of responses.  For Dennison, one cannot enter a Board Room, or any workspace, defined by gender.  Rather, she implored women to "show up as equal to be treated as equal."  Hermela offered a different take, a celebratory embrace of her gender – "I AM Woman" – as a superpower she carries into any interaction.  Moronta emphasized the need for sisterhood above competition.  In wrapping up the topic, Ajakaiye noted the "introspective, generational differences," revealed by the answers.
Mentorship came up throughout the discussion, and Ajakaiye asked the panelists to describe instances of mentorship and why it is so important.  Moronta shared eloquent examples of how mentorship is underpinned by emotional support, which she has learned from others and has tried to pay forward.  For Dennison and Hermela, the best mentorship is encouraging a thirst to learn – run towards your fears of the unknown, embrace the larger learning piece, learn authentically, diversify what you aspire to learn, and lean into it with positive energy.
The panelists shared their thoughts on when the meetings industry might return to some form of normalcy, with all agreeing that 2023 is the anticipated year.  However, in the interim, innovation and the continued embrace of change will be critical – virtual events, hybrid events, creative use of space, etc.  Hermela shared that some brides are realizing that they actually do want a smaller wedding, they just never entertained the idea before it was forced upon them.
The conversation closed with Ajakaiye asking each panelist to draw upon what inspires them and to share that with the audience.  Related to this was how to approach risk and risk-taking moments.  Each panelist confided examples of vulnerability and failure, and how, ultimately, these experiences inspired them to grow and learn.  This led to a fitting and inspirational closing segment – values matter more than titles, ask for more, and believe in yourself.