From August 29-31, thanks to Bay State Cruises and Save the Harbor/Save the Bay, you & your family & friends can motor to Georges Island for FREE. At Georges, you can explore the historic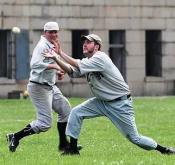 Fort Warren (a Civil War Era Fort), participate in Civil War-era lawn games, come face to face with birds of prey, and just maybe encounter the infamous Lady in Black. Save the Harbor staff will also be running activities such as fishing and fun beach activities. 
Don't miss the boat! Register here and check-in at 9:45 a.m. at the Blue Hills Bank Pavilion at 290 Northern Ave.
Enjoy everyone- what a great way to end summer!
BostonUSA, Save the Harbor/Save the Bay & Bay State Cruises!