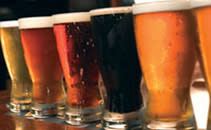 It used to be that you could ask for a Schlitz, a Bud, or a Schaeffer (the "one beer to have when you're having more than one."), and that was pretty much it. They all tasted similar, so it really didn't matter which one you ordered. If your beer money was running low, you could have visited the package store and picked up a six-pack of Blatz, which I always liked because of its funny-sounding name -- a mash-up of "bland" and "Schlitz" -- as well as its low price.
Today, there are many more choices, and ordering a beer has become considerably more complicated. Domestic? Imported? Ale? Lager? IPA? Light? Dark? The number of brands and varieties can make me cross-eyed before I've imbibed a drop. Sometimes it's enough to make me run to the packy for the cool comfort of a cheap Blatz. But I must admit a fondness for fruit-infused beers. That's why I'm looking forward to the annual Local Craft Brewfest, which will feature pumpkin flavored beers.
Area small-batch breweries will offer their fall creations, including Watch City's Pie Eyed Pumpkin Ale, Blue Hills' Pumpkin Lager, and Smuttynose's Pumpkin Ale. Many other choices will be available, but guests won't have to fret about becoming overwhelmed and cross-eyed. Admission to the event includes unlimited tastings of all beers.
Because man (and woman) cannot live on beer alone, the Brewfest will also offer savory samples from local restaurants and food vendors. Distillers, cideries, meaderies (who make drinks from honey), and artisan beverage vendors will also be on hand to fill tasting cups. Live music and entertainment will round out the event. It's all to support the Sustainable Business Network of Massachusetts, which promotes the Boston Local Food program and presents the Boston Local Food Festival.
4th Annual Local Craft Brewfest
Saturday, Oct. 12, 3 p.m. to 6:30 p.m.
On the waterfront in the Seaport District at the Moakley U.S. Courthouse, 1 Courthouse Way, Boston