One of the most iconic buildings in Boston is this week's #MemberMonday, the SkyWalk Observatory. Sitting atop the Prudential Tower, this experience is on the "To Do" list of most Bostonians and visitors. From the one of a kind view, to the expansive history, there is something fitting for all ages. 
You start to feel your ears pop around the 20th floor of the accelerated elevator ride. As the numbers quickly jump on the screen, you will promptly find yourself on the 50th floor, surrounded by 360 degrees of spectacular skyline. Despite falling short to the John Hancock Tower, (by eight floors), the SkyWalk Observatory presents the opportunity for visitors to feel like they are amongst the clouds, while avoiding the wind chill.
There are audio tours offered in multiple languages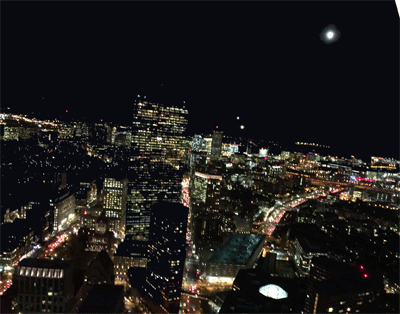 that will help you make your way around the top of the world. However, the Observatory can easily be enjoyed in any order. In one direction, your eyes follow the Mass Pike and Commuter Rail tracks towards Fenway Park, Boston University, all the way to suburbia. As you continue your journey, you'll find the Charles River, Harvard, MIT, Commonwealth Ave, and Newbury Street. The streets lined with brick, make for a colorful medley with the foliage along the esplanade. Following the Charles, you will quickly locate the rest of the cityscape. You will be looking directly across at the John Hancock Tower, Zakim Bridge, the Financial District, and the Boston Harbor. The last corner you take overlooks the South End, Southie, Dorchester, and the Boston Harbor Islands. On a "clear day" you can see the mountains of New Hampshire and Cape Cod.
In addition, the experience offers Dreams of Freedom Museum and multimedia theater, which features Wings Over Boston. The SkyWalk Observatory is open seven days a week with seasonally based hours with military, group, and Mass. Teachers Association discounts.  For more information, visit here for details.
Skywalk Observatory
Prudential Tower, 50th Floor
617-859-0648