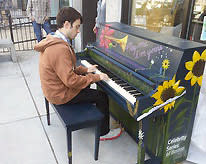 To kick off and celebrate its 75th anniversary season, Celebrity Series of Boston is presenting a unique event, Play Me, I'm Yours! From September 27 through October 14, anybody happening by one of the 75 pianos installed in outdoor locations throughout the city is encouraged to play a tune or two.
The interactive performance piece is the brainchild of artist Luke Jerram and has been touring around the globe since 2008. Participants can discover where to find the pianos as well as share photos and videos of their musical ditties at the Play Me, I'm Yours! site as well as on social media using the hashtag #streetpianosboston.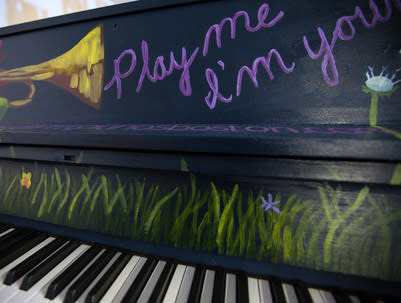 I've prepared a list of suggested songs you might want to consider playing at the following locations to help make the event uniquely Boston. If you have your own tunes to share, please chime in by leaving a message in the "Comments" box at the bottom of the page.
Fenway Park location: "All the Way"
Government Center T Station location: (Charlie on the) "M.T.A."
Berklee College of Music location: "All That Jazz"
Esplanade by the Hatch Shell location: "Dirty Water"
Alternate: "1812 Overture" (in honor of Boston Pops 4th of July concert)
MIT location: "She Blinded Me with Science"
Old North Church location: Any British Invasion song, especially "Shine a Light" by the Rolling Stones
Photo: streetpianosboston.com