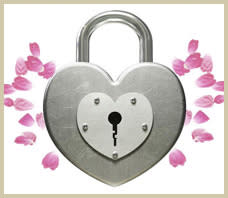 It's almost Valentine's Day. Have you figured out how you will demonstrate your undying love to your significant other this year? Flowers and chocolate are OK, but the same old, same old can get kinda stale and could disappoint your honey -- in the same way that your routine, um, bedroom adventures, can get kinda been-there, done-that. Have no fear my fretful friends. Your resourceful blogger has a solution that will help you, er, score in both departments.

Instead of flowers and chocolate (or, if you really want to score, in addition to your usual presents), surprise your sweetheart and rekindle your romance with an amorous overnight getaway. Many Boston-area hotels are offering special packages to help set the mood. Here are a few examples:
Book the Lip Locked Valentine's Package at The Liberty Hotel, and your overnight accommodations will include a split of champagne, rose petals on the bed, chocolate, lip gloss (to make your mouth that much more alluring and lip-lockable, I guess), and something the hotel is calling an "intimacy kit." Well, that last item is piquing my curiosity. How about you? It certainly sounds more intriguing than the ear swabs, shower caps, and sewing kits that hotels usually provide.
The Taj Boston is also offering rose petals as well as a champagne breakfast for two and chocolate covered strawberries as part of its Romance Blooms package. If you and your beloved simultaneously chomp away at the chocolate covered strawberries Lady-and-the-Tramp style, you could also end up lip locked at the Taj. It appears you'd have to provide your own lip gloss and intimacy kit, however.
I have more Valentine's hotel getaways to share with you. Trust me on this one: These great deals will both wow your valentine and put more wow in your relationship. You'll be thanking me later. And while you are at it, maybe you could also tell me what the heck is in those intimacy kits.
Image: The Liberty Hotel