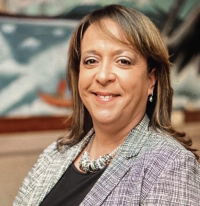 Dagny Ashley's wealth of knowledge and experience in Tourism & Marketing has catapulted her to Quincy's Director of Tourism. She is a graduate of Lesley University with a Bachelor of Arts degree in Business.
Her career in tourism & marketing started as the Group Tour Manager for the Southeastern Massachusetts Convention & Visitors Bureau for 14 years, promoting tourism marketing for all 20 Bristol County communities, including the four Gateway cities of New Bedford, Fall River, Taunton and Attleboro. She then went on to a position with the Massachusetts Office of Travel & Tourism in Boston as the Group Tour Manager & Conference Manager for 6 years. The position entailed working with tourism stakeholders in the Commonwealth, promoting Massachusetts destinations, making connections with national hospitality businesses and meeting with regional tourism leaders throughout the Northeast and Canada. She then became the Director of Tourism & Marketing for the City of New Bedford for 7 years, where she implemented a new tourism department, opened a visitor information center, created new branding and initiated marketing strategies to increase tourism.
Currently she is the City of Quincy's Director of Tourism, she is responsible for Discover Quincy's marketing plan, advertising and branding the city as a tourist destination locally, regionally, nationally and internationally, increasing visitation, local taxes and stimulating economic development. The department also serves as a tourism liaison between various related public and private organizations and institutions such as hotels, retail, dining, attractions, arts & culture.
She serves on various regional and state boards including the Meet Boston Board of Directors and serves on the Nomination committee as well as the Multicultural committee. She also serves on the Schooner Ernestina Morrissy Advisory Board, representing the Massachusetts Office of Travel & Tourism. The Schooner Ernestina is the official state vessel of Massachusetts.