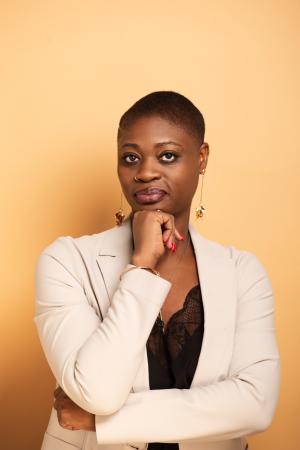 Olawumi Akinwumi (She/Her) is the Deputy Director of Programs at Arts Boston. Ola's (Ola, Olasco) background is in event management and public relations. In addition, she has over ten years of experience in live entertainment and social media—the owner of AfroDesiaCity Productions LLC an independent event management company.

Previously, Ola was the Director of Hibernian Hall at Madison Park Development Corporation for over five years. Through original quality theater productions and creative arts programming, she fostered the celebration of the cultural heritage of the Roxbury neighborhood. She has extensive expertise in non-profits, youth advocacy, and affordable housing. She is a long-time resident of Roxbury and is enthusiastic about fostering the revitalization of Roxbury by bringing a wide variety of art genres and civic events to the area. In her role at Hibernian Hall, she has provided opportunities for local artists to build, grow and cultivate their talents in this historic arts and cultural performance center.

Ola holds an MS in communications management from Simmons School of Management and a BS from New Hampshire. She began her education as a Tourism Planning and Development major. After graduation, she worked at the Sheraton Boston Hotel as an Executive Meeting Specialist and moved into several related positions that groomed her as an impresario.

Olawumi can be reached at inquire@afrodesiacity.com.