Raphael Torres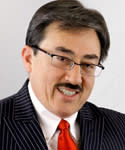 Rafael A. Torres is a Board Member of the Greater Boston Convention and Visitors Bureau and has been a member of the GBCVB since 1991.

He is the founder and President of Don Quijote Tours of New England, Inc., a receptive tour company that has contributed to the inbound tourism industry for the New England region and more specifically, the Greater Boston area. Mr. Torres immigrated to the United States from Colombia and has been dedicated to the promotion of Boston, since its foundation in 1991.

Under Mr. Torres direction, DQT has provided very exclusive guiding services with professionalism and integrity to a wide range of international visitors, including multinational corporations, political leaders and celebrities from Spain and Latin American countries. He enjoys sharing both his knowledge and love for the region, and does so in Spanish, English, Italian, and Portuguese.
Mr. Torres has had multiples roles in Boston, such as the Assistant Director of the Boston-YMCA International Office, Board Member of the Hispanic Chamber of Commerce, Board Member of the Colombian Cultural Exchange, Board Member of KeySteps, Inc. and instructor of the La Alianza Hispana's Adult Education. He has received several awards for his contributions to the Massachusetts tourism industry, such as the Larry D. Meehan Award, the Ambassador's Club Export Award, (US Embassy in Madrid, Spain) the Small Business Travel and Tourism Achievement Award, and the Massachusetts 100 Most Influential People 
for Latinos Award.