Belmont
Belmont, MA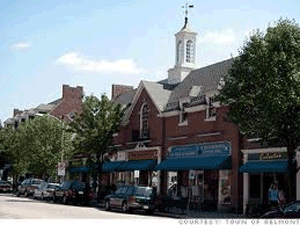 MBTA: Belmont can be reached through the Fitchburg Commuter Rail Line out of North Station with a stop at Belmont Center.
Belmont, also known as the "Town of Homes" due to its high percentage of residences, is located about 7 miles northwest of Boston. In its early days, Belmont served as an agrarian based town with large farms servicing Boston. It remained this way until the turn of the 20th century when a trolley service and better roads were introduced, attracting a large residential population. Today, the town features an impressive mansion-filled neighborhood known as Belmont Hill. Notable residents of Belmont include 2012 presidential candidate Mitt Romney and Nobel Prize winner organic chemist Robert Burns Woodward.
Making a difference for your needs today/everyday. Specializing in Non-Profits to For-Profit. A-Z with management services tailor made for your individual requirements including: Organizational, government relations, recruitment, communications, fund-raising and marketing. The...
Savinos Grill, located in Belmont, Massachusetts, invites you to join us for an evening of elegant dining in a beautiful setting. Our unique offerings combine the flavors of the foods of Italy and the surrounding Mediterranean regions. We carry a diverse selection of...