Somerville
Somerville, MA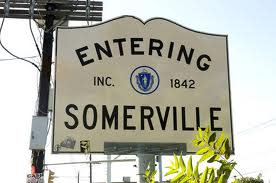 Website: somervillema.gov
Facebook:  facebook.com/SomervilleCity
Twitter: twitter.com/SomervilleCity
MBTA: Somerville can be accessed through the Red line at Davis Square and the Orange Line at Sullivan Square.
Engaging and busy Somerville is located just two miles northwest of Boston. It separated from Charlestown and was incorporated as its own town in 1842. This city was home to one of the first hostile acts of the American Revolution when British soldiers stole colonial gunpowder, considered to be a major turning point in the events leading up to war. On a lighter note this city is also the birthplace of Fluff, an American favorite when coupled peanut butter. Somerville's industrial past set up the city to be a modern metropolis with countless restaurants and businesses lining its streets. This city was once home to 44th U.S. President Barack Obama.
The La Quinta Inn & Suites Boston-Somerville is conveniently located just 2 miles North of downtown Boston off I93 and is close to all Boston & Cambridge businesses and attractions including Fenway Park and Bunker Hill, and 3 miles from the Boston financial district. At the La...
Welcome to our new LEGO® Discovery Center Boston. It's the home of LEGO® play, where you and your family can create your own adventures with over two million bricks. Build your very own space rocket out of LEGO® bricks and launch it into cyberspace with our LEGO® Space digital...