Winthrop
Winthrop, MA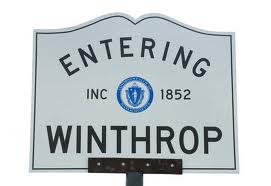 Website: town.winthrop.ma.us
Facebook: facebook.com/winthropma
Twitter: twitter.com/townhalltweets
MBTA: Winthrop is accessible via subway, bus or commuter rail.
An oceanside community, Winthop is a peninsula of 1.6 square miles that boasts one of the most spectacular views on the East Coast. On one side there's a panoramic view of the outer harbor and on the other is the Boston Skyline and the inner harbor silhouetted against the sky. Winthrop is a quaint and friendly New England town with shops, parks, marinas, inns and miles of beaches.
Winthrop is just 20 minutes from Boston via public transportation and about 5 minutes from Boston Logan International Airport. Winthrop is also just a short boat ride away from many communities on both the North and South Shore. We like to think of Winthrop as the gateway to the North Shore. Settled in 1630, Winthrop is one of the oldest communities in the country. It was named for John Winthrop; a governor of Massachusetts and John's son Deane Winthrop's home, built in 1637 is now an historic site and museum.