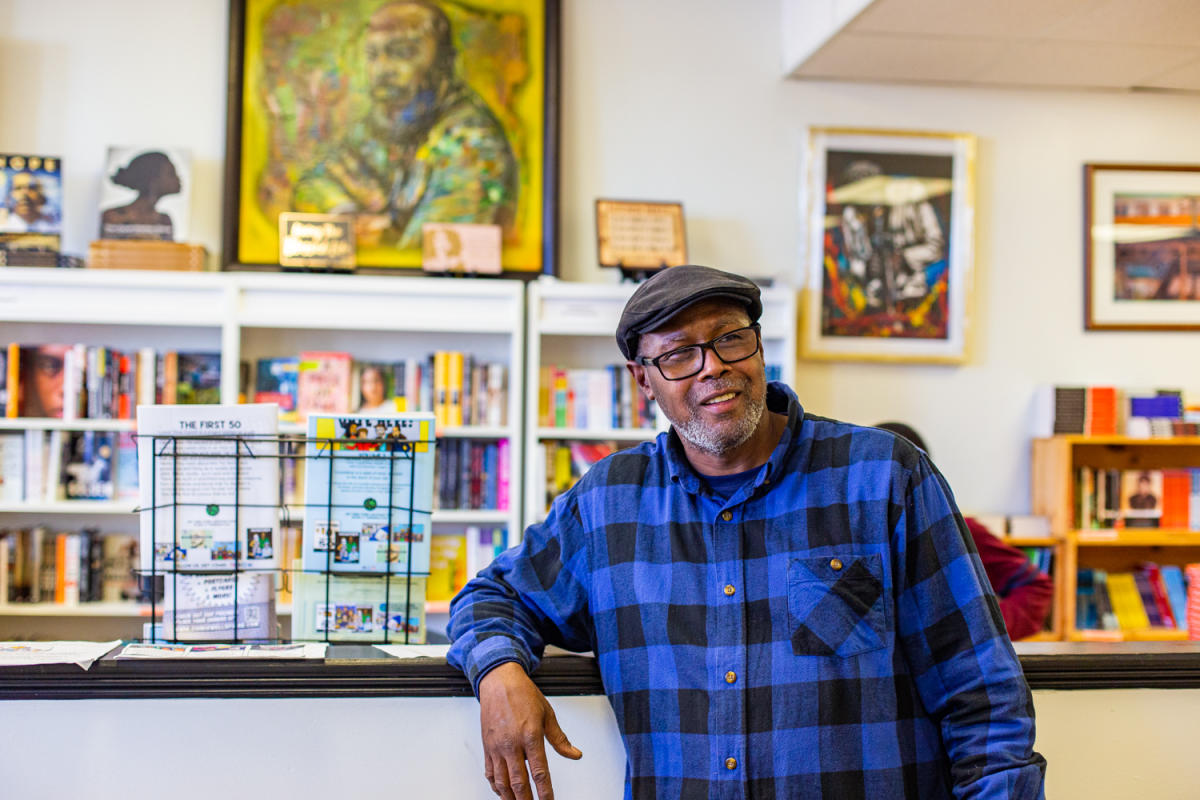 An Interview with Leonard Egerton & Clarrissa Cropper
GBCVB:
I'd like to first start by talking about the bookstore, how you came to be the owner of the bookstore, what that story is, and what that journey is.
Leonard Egerton:
I was looking for work when I met a guy named Robert Romanow. He owned a chain of furniture stores called Frugal Furniture. In each one, he had a niche in there where he had books. And I believe for him, in the beginning, it was to try to sell books to people in the community.
The community is predominantly black and Latino, and when people came in to get furniture, they can also get a book, sit down and read. So I started working with him and he asked me if I would help him build a business selling books to the schools. And of course, I jumped on it. He promised to me, in the process, that he would sell me the bookstore eventually once I learned the business. So it took us a couple years.
Clarrissa Cropper:
So Leonard and I were already dating, we were already an item, and I had been working at the furniture store part-time, and he asked me if I would want to help run and manage this bookstore. I had no prior experience, but I love books, I'm an avid reader. So of course, I said yes.
Leonard Egerton:
So March of 2008, We now have a legitimate bookstore. It was no longer the books were in the furniture store. We had probably 1,800 square feet of just beautiful books.
GBCVB:
So that's 12 years ago. What's the evolution of the store looked like since then?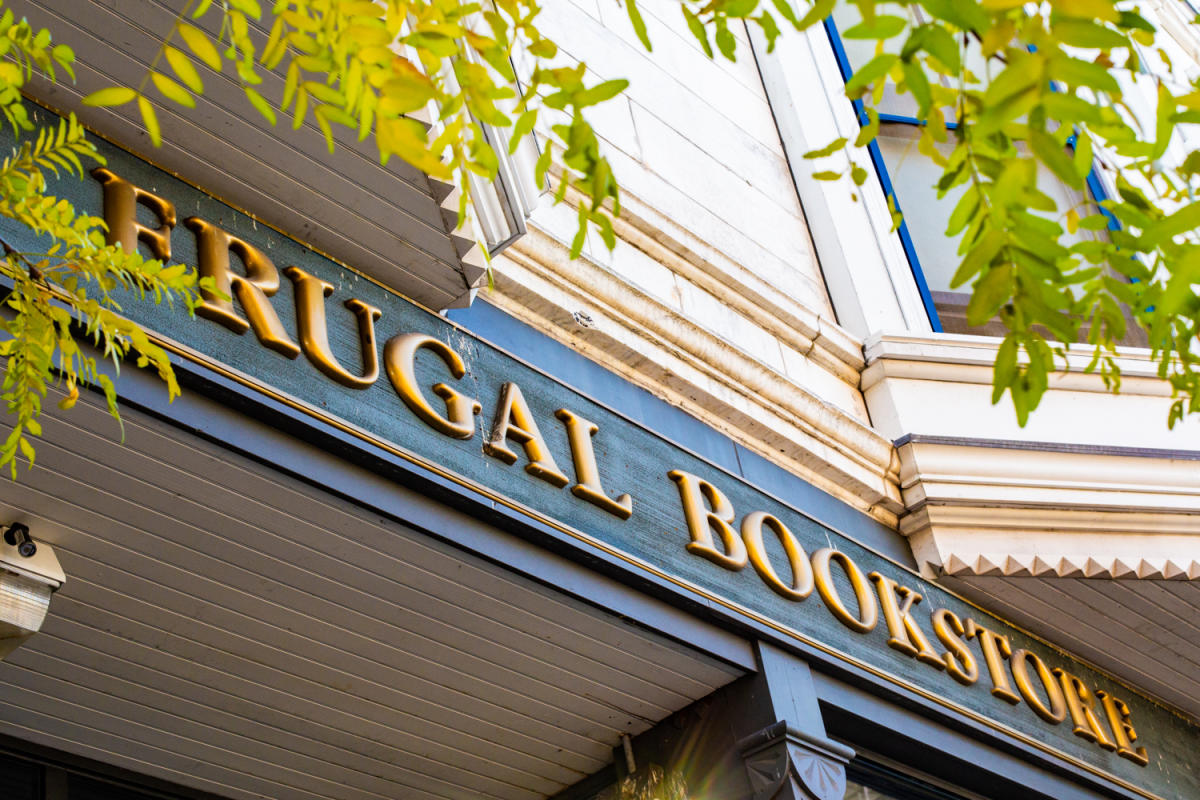 Leonard Egerton:
When we moved in there in March 2008, that's when we became the owners of the bookstore.
So Clarrissa and I decided that we would make Frugal Bookstore the place to be. We took every waking hour, every minute to do all that we could do to make Frugal Bookstore the place to be: a place where people would come from all walks of life. Teachers would come from all the surrounding schools, and we quickly became that place.
From 2008 to say 2015, we built a very strong bookstore where we had authors coming from out of town to have book signings. We had field trips where students would come from the schools. Every year students would come, and the field trip was they would walk from their school to the Frugal Bookstore, and they would come in the store and they just lit up. It was a beautiful thing to see. And each class would come there, and they would pick a book out, and then they would walk back to the school.
Clarrissa Cropper:
It was really exciting. We even have now where we have students or young people come in and say, "I grew up in this bookstore. I remember when I was younger and my parents brought me to this bookstore, and I still have the books from when I was little," and they're adults now. So it's really cool to see young people, as they've grown. They were little people and now they're adults, like our daughters are, and it really is exciting.
In 2016 is when we moved to our current location at 57 Warren Street. So we have been in this location for four years now. One of the things that we were not able to do in the old location was have after hour events. Now that we have a storefront, we were able to have programming after hours. So after the store closed, we would have Speakeasies, we would have open mic sessions, We would have late night author events for the grownups where we would have wine and appetizers, We had paint nights with a local artist, Rufus Faulk. Rufus would come to the bookstore, and families would come and they would paint. We would also have game nights at Frugal Bookstore at least once a month. Twice a month, some months.
So definitely the structure changed in that sense because we were able to do a lot more than we were able to do before. And it's been awesome. We have had so many even still authors from out of state come and have book signings. We would have book clubs ranging from children to adults.
Leonard Egerton:
We have a lovely children's corner that also Rufus Faulk did. He built it for us. So the children's corner is where the children can come, they can play Legos, we have a big rug there for them to play on and just enjoy the books.
Clarrissa Cropper:
We've had some big name authors come. So Congresswoman Ayanna Pressley brought Monique Harris. She wrote the book Pushout.
Leonard Egerton:
We've had the football plater, Marcellus Bennett, who wrote the children's book, Black Boy. Styles P., who is a very popular rap artist, and he came to the bookstore twice.
Clarrissa Cropper:
We've had Erica Mena from the Housewives. So we've had some pretty cool people come by. Deval Patrick, when he was governor, came when we were in the mall and he signed copies of his book. We've had a lot of customers come in who remember really just coming and having that experience. So you're in a community where a lot of people say, "Oh, people don't come to Boston." So to be able to have a platform for customers to come where they can come and see people that they wouldn't normally see come, it's really exciting for them to bring that to them. So they still remember that, and they come to us now and they'll say, "When are you going to have another author come and do a book signing?" So we're just waiting for that opportunity again.
GBCVB:
Your bookstores function as a shared space for the community. So I want to ask you guys your thoughts on how vital that is to create those spaces? And why is that important?
Leonard Egerton:
It's important to share Frugal Bookstore with the neighborhood. As you were talking, I thought about vital village which is a part of Boston Municipal Hospital. They are a program that teaches women how to breastfeed. And we partnering with them. They were looking for somewhere to hold their meetings that was close, some of the participants are from the local housing developments around here, and some right up the street, so they needed a place to go and we partnered with them. There are a couple of more organizations that we partnered with. If you have a space like we have in Frugal Bookstore, and there are people who need to have little functions or little get togethers, it's nice to partner with them because not only are you helping them to thrive in whatever they're doing. It brings people into the bookstore, and they'll share their experiences about partnering with Frugal Bookstore.
We get reviews saying, "Beautiful atmosphere, the people were very helpful, would love to go back there. We recommend Frugal Bookstore to the world,"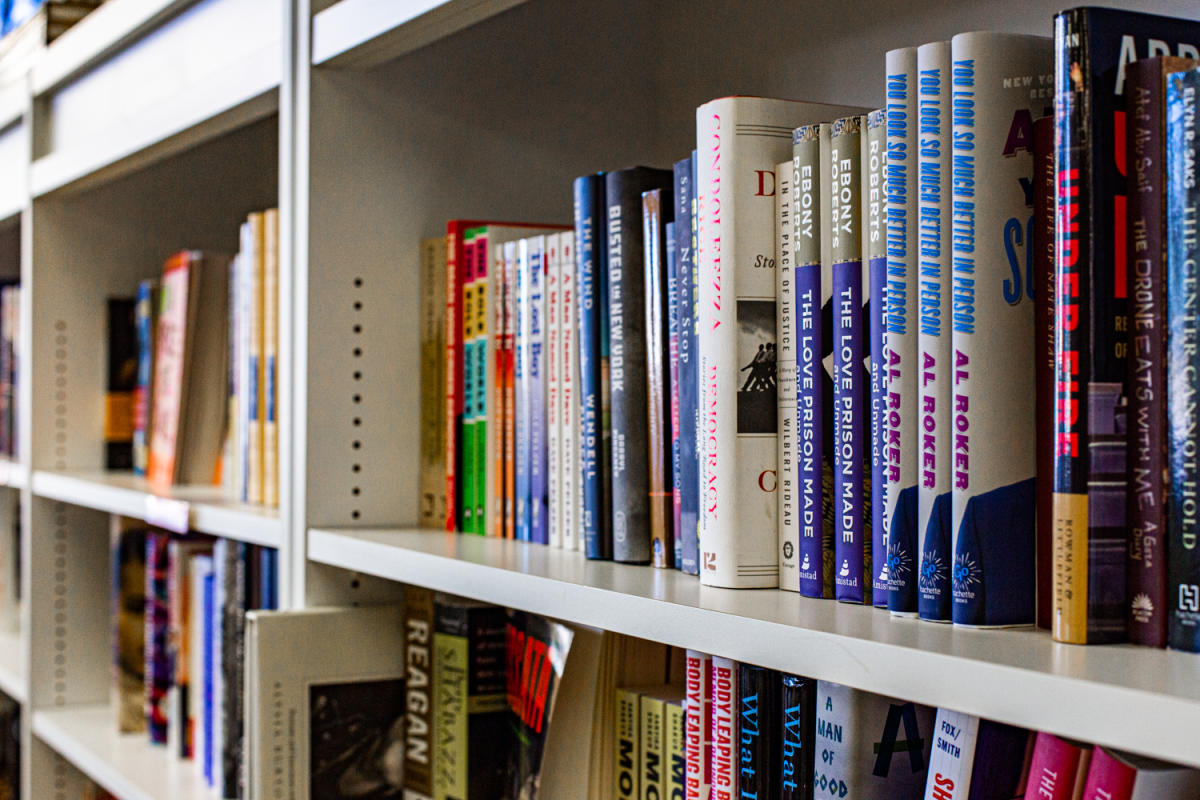 Clarrissa Cropper:
It was definitely important for Leonard and I to create a space for our community. When you think about or you talk about Frugal Bookstore being a place where the community can come and they can have conversations, and share the love of books, we wanted the space to be that because we believe people from this community shouldn't have to go outside of their community to get that experience. We wanted to provide that atmosphere.
We greet all of our customers, especially the customers who've been our customers for years. We greet them by name. They know us, we know them, they have watched our children grow. So our daughter who is in the store now, when they see her, they're like, "Is that Nia? Wow, that's Nia. When she was little, I remember," so it's that sense of that pride that we feel really honored that our customers appreciate us, love us enough that they have watched our family grow. They're part of our Frugal Bookstore family. We call them family. So that's an atmosphere that we wanted to create and that we have at Frugal Bookstore.
It's that sense of that pride that we feel really honored that our customers appreciate us, love us enough that they have watched our family grow. They're part of our Frugal Bookstore family. We call them family. So that's an atmosphere that we wanted to create and that we have at Frugal Bookstore.
GBCVB:
And do you feel like that's part of a bigger sentiment of what I'd call Roxbury Love?
Clarrissa Cropper:
Absolutely. Because before it was named Nubian Square, it was Dudley. So people would say, "I'm going down Dudley. I'm going shopping, whether it's to the bookstore, to get my hair to the salon," it's a place where you don't have to go outside of your community. So Roxbury has so much pride and culture, and we are so happy and honored to be part of that.
When we were moving the bookstore, we didn't want to leave the neighborhood. We wanted to stay in Roxbury because we know that Roxbury has a sense of pride and there's a sense of love and community, and we wanted to continue to be part of that and also share that with all of our customers.
GBCVB:
At one point, you talked about how Frugal Bookstore actually helps increase the literacy rate in the community, which is terrific. So will you expand on that just a little bit or say it again?
Leonard Egerton:
Well, I grew up in Roxbury. I hung out in Dudley station before they took down the L, the buses were here. So on top of Roxbury having a vibrancy about it when I was growing up, it was also known, in our community, that the literacy rate was very low.
I was a reader and books have been a part of my life since I can remember, so I knew that once I got the bookstore, Frugal Bookstore, and it was ours, I knew that I was going to share that with everybody in the community. And it became part of our mission to provide books for the community, and to uplift everyone's reading skills.
 That's when we came up with the slogan "Changing Minds One Book at a Time", because we know that reading, if you're in Roxbury, it'd take you to Dorchester, it'd take you to Africa, it'd take you to Europe, it'd take you to Asia. Reading just broadens the mind. We knew that by having access to literature, that it would just infuse the community with a sense of pride by coming to Frugal Bookstore, because people know when they come there, they're going to leave with something. Whether it be a book or whether it was a conversation they had, everybody learns something when they come to Frugal Bookstore.
GBCVB:
We talked a little about Roxbury love already, but you talked about the idea of these kids' faces lighting up when they come in, I wouldn't mind hearing from you what that's like as a proprietor of a place that infuses community where they take something away. But when they come in and you see those faces, describe that to us, what that means.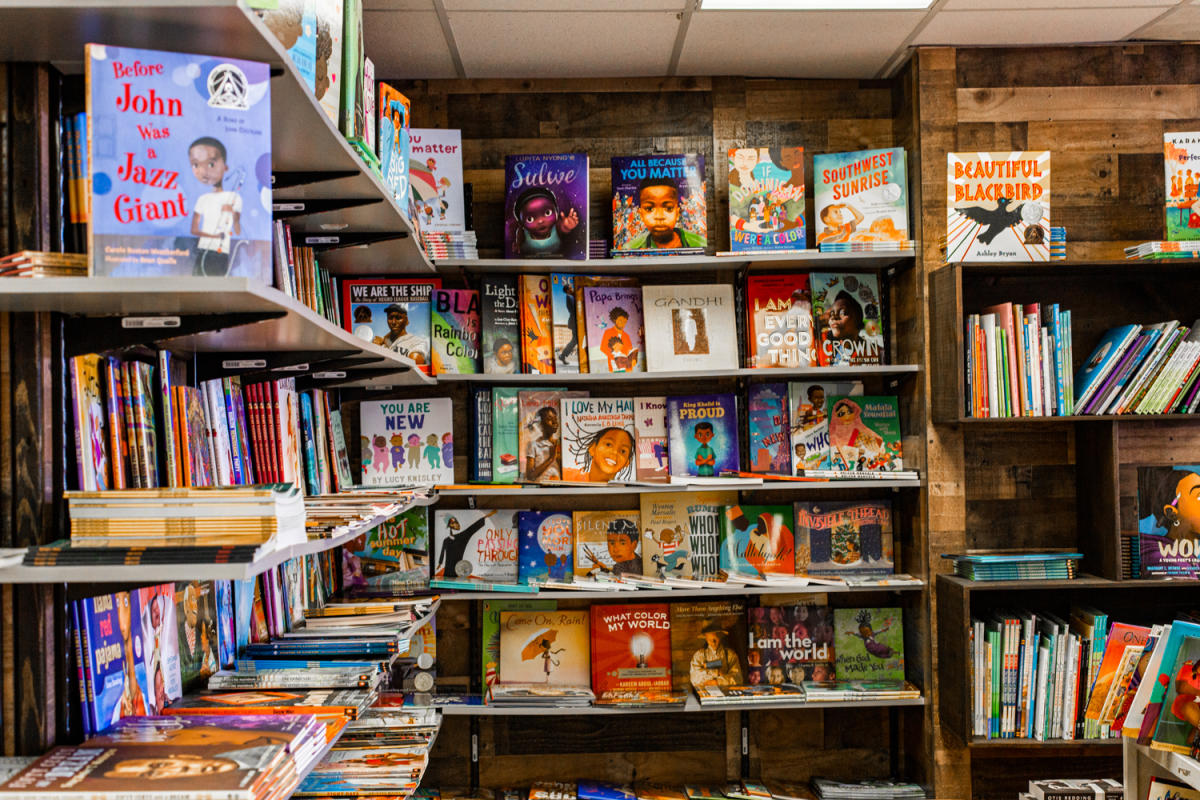 Clarrissa Cropper:
I know for me, it lights me up. It's lighting me up right now. When children come into Frugal Bookstore, they say, "Is this a library?" And their parents will say, "No, it's a bookstore." And they come in and they see all of the covers with different shades of brown faces. It represents them so they can picture themselves in these books. So when they come in and they just light up, it warms our hearts. We started a program where children 13 and under receive a free book on their birthday. So that's part of our way of giving back, that's part of increasing the literacy in our children, and we know that children love to read. They loved the illustrations. They love to look at books, and flip through the pages, and see all of the colors pop. And so when they come in, and they go to the children's corner, and they sit at the bench in the stools. It's just like a little space for them that they can feel welcome, then they want to come back each and every time. We have a Lego set that we have for those who may not want to read at the time, but they can play.
They don't want to leave the bookstore when the parents are saying, "Okay, we already paid for our books. It's time to go," and they get upset, they throw tantrums, and they don't want to leave. We'll say, "It's okay, we'll see you next time. You can always come back again." And so it's really good, and we just really love it. And that's what we know that that's what we're giving back to the community is that place where not just children, but adults can come and they can feel at home, and feel welcomed in a space in a community that they live in, or maybe not live in, but they feel welcomed.
Leonard Egerton:
I think one of the most beautiful features about children who receive books on their birthday, every year they come back, they get another book, and some have started their libraries in their homes with the books that they receive on their birthdays every year.
There's nothing like seeing yourself reflected in a book. And a lot of folk our community didn't see that growing up. So now, when you have children who walk in there and the first thing they see is, "Oh, look at her. She looks like me. Or she looks like such and such," it's a beautiful thing. It's almost you can't put it into words.
Roxbury videos:
Video produced by the Greater Boston Convention & Visitors Bureau