Just north of Boston exists a dynamic string of neighborhoods full of hidden gems. Somerville is known for its city squares, which all have interesting personalities of their own. Delicious cuisines, arts and entertainment, and fun outdoor activities are just a few things you will find here. In this Neighborhood Blog, we will explore what makes Somerville so unique.
Union Square
What's Union Square known for? Some may say dessert (or breakfast – no judgement). Union Square Donuts boasts some incredibly unique flavors, from Bully Boy Whiskey Caramel Hot Toddy to Maple Bacon, and everything in between. Another Union Square standout is the Bronwyn restaurant, which features German cuisine along with other European-inspired flavors. Just down the street, Bow Market is a place you won't want to miss. Home to unbelievable food, retail stores, and arts & entertainment, Bow Market has something special for everyone.
Ball Square
Ball Square is a small area with a big personality. If you find yourself craving more sweets, Lyndell's Bakery should be a stop along your way. Opened in 1887, Lyndell's is known as the "Godfather" of all New England scratch bakeries and provides custom cakes as well as other sweet treats. Ball Square Cafe and Sound Bites are wonderful options if you find yourself strolling through Ball Square around brunch time, and Avenue kitchen + bar is the place to go for dinner.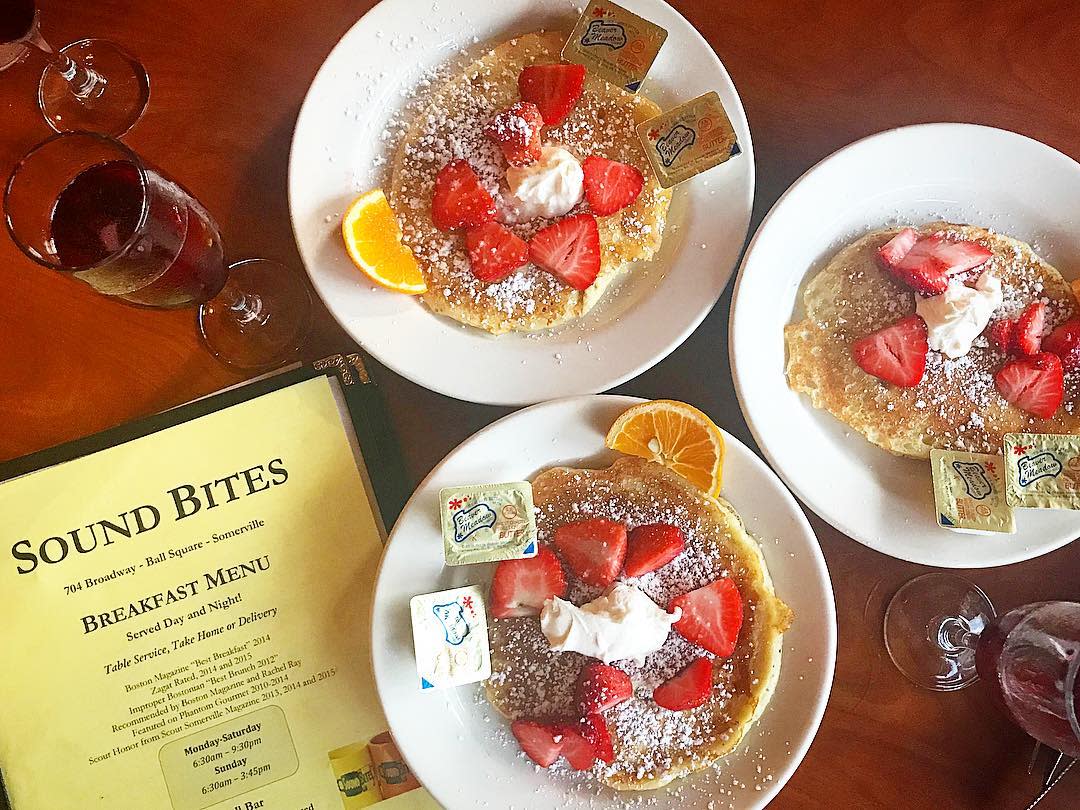 Photo by: @ravenousboston
Assembly Square
With its own stop on the MBTA Orange Line, Assembly Square is easily accessible. Within the last few years, this area has completely transformed into a hub for shopping, dining, and entertainment. The Outlets at Assembly Row is comprised of over 40 stores – a true shopper's paradise. If you have kids, or are just a kid at heart, LEGOLAND Discovery Center is a must-see. While you're in the area, be sure to stop in or stay overnight at The Row Hotel, part of Marriott's Autograph Collection.
Davis Square
Last, but certainly not least, Davis Square is located only 15 minutes outside of Boston on the Red Line. The historic Somerville Theatre (temporarily closed due to the pandemic) is well worth a visit when it's safe to do so. Built in 1914, this movie theatre and concert venue has been entertaining guests for over 100 years. The go-to spot for Davis Square locals is Dave's Fresh Pasta. With an abundance of artisan cheeses, specialty wines, homemade pasta, and delicious sandwiches, the options are endless. Starting up again on May 19th, enjoy the Davis Square Farmer's Market to find fresh food options and support local vendors. Just around the corner, the Somerville Community Path is a great place for bikers, walkers, and runners alike to get some fresh air and exercise.
Whether you're enjoying the sweets, the shops, or the sights, Somerville is full of fun things to do. Its charm is sure to leave a mark on all visitors that pass through. Next time you're in Boston, head North and experience the squares of Somerville!
Explore More Boston Neighborhoods:
invalid widget [plugins_collections_type_custom_interactive_map] [custom_interactive_map]