Months before the first snowflakes fall Boston observes a different kind of Christmas - Allston Christmas.  Never heard of it? Then you're not from around here.  Every year, leading up to September 1, hundreds of thousands of college students descend upon Boston, many finding first-time apartments in the neighborhoods of Allston and Brighton (located in close proximity to Boston University and Boston College).  It does cause some chaos, but an endearing chaos; it's such a rite of fall passage that Harpoon Brewery has even come up with a new beer called Allston X-Mas. 
In this edition of our Boston Neighborhoods blog we dive into the youthful energy emanating from the city's western enclaves of Allston and Brighton.  Truth be told, these neighborhoods are so much more than just living quarters for matriculating students enrolled at local colleges and universities.  From Allston Village to Brighton Center, these interlocking neighborhoods feature fabulous music clubs, eclectic dining options, local farmers markets, and beautiful street art.  They are accessible via the Green Line trolley, one of Boston's earliest streetcar lines, so hop the B train on the Green Line and make a day out of visiting Allston and Brighton.
Typical of Boston topography, these neighborhoods blend together but also maintain their own distinctive personalities.  Sometimes it's difficult to delineate between the two, but that's how Boston works, so it's okay that Brighton Ave. begins in Allston and Allston Street ends in Brighton.  It's also okay that Brighton Music Hall is technically in Allston.  We'll forgive the misnomer because regardless of its location Brighton Music Hall is a great venue to see a show or host a party, and the same can be said for Paradise Rock Club and Great Scott.  And the area of Allston around Brighton Music Hall – near the intersection of Brighton Ave. and Harvard Ave. – is a haven for discerning palates, with myriad Asian and Indian restaurants inviting patrons to feast on various corners of the globe right here in Boston.
If you continue along Brighton Ave. and take a left on Cambridge, stopping for a quick bite at the iconic Twin Donuts, of course, this will take you to Washington Street.   Take a right on Washington and explore two of Brighton's most vibrant commercial and cultural areas – Brighton Center and Oak Square.  The neighborhood is very pedestrian-friendly so meander through streets lined with historic homes and Boston's signature triple-deckers.  Pop into fun restaurants and pubs like Devlin's or the always colorful Corrib Pub.  Check out the seasonal menus and prolific array of craft beer on tap at the Brighton Bodega, or recharge at one of many local cafes and coffee shops.  The Brighton Common Farmer's Market is one of the best in Boston.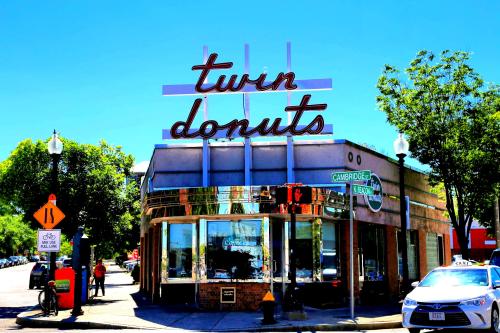 Allston and Brighton offer a genuine Boston experience beyond the bustle of Back Bay, downtown, and the waterfront.  Forever linked to the college campuses that form their geographical bookend, Allston and Brighton have grown beyond this collegiate association, they are truly unique and a visit to Boston is enhanced by journeying west into these neighborhoods.
More Boston neighborhoods here.