Igloo Experiences
DoubleTree Igloos 
With city skyline and river views under a glowing dome, the new Chill Over the Charles igloo experience at DoubleTree by Hilton Hotel Boston – Cambridge is the latest cold-weather activity to add to your bucket list!

Envoy Igloos and Ice Boxes
Experience the panoramic views of Boston you know and love year-round with the Envoy's Igloos and Ice Boxes. Whether you're planning your next date night or an intimate night out with the ones you love, these illuminating, heated igloos and cozy ice boxes are sure to make any night one to remember! 


Igloo Village at 75 on Liberty Wharf
Located right on the Boston Harbor, the Igloo Village at 75 on Liberty Wharf is here to take your winter blues away! Cozy up with a winter-warming Eggnog White Russian or a Gingerbread Martini in the comfort of your own private igloo.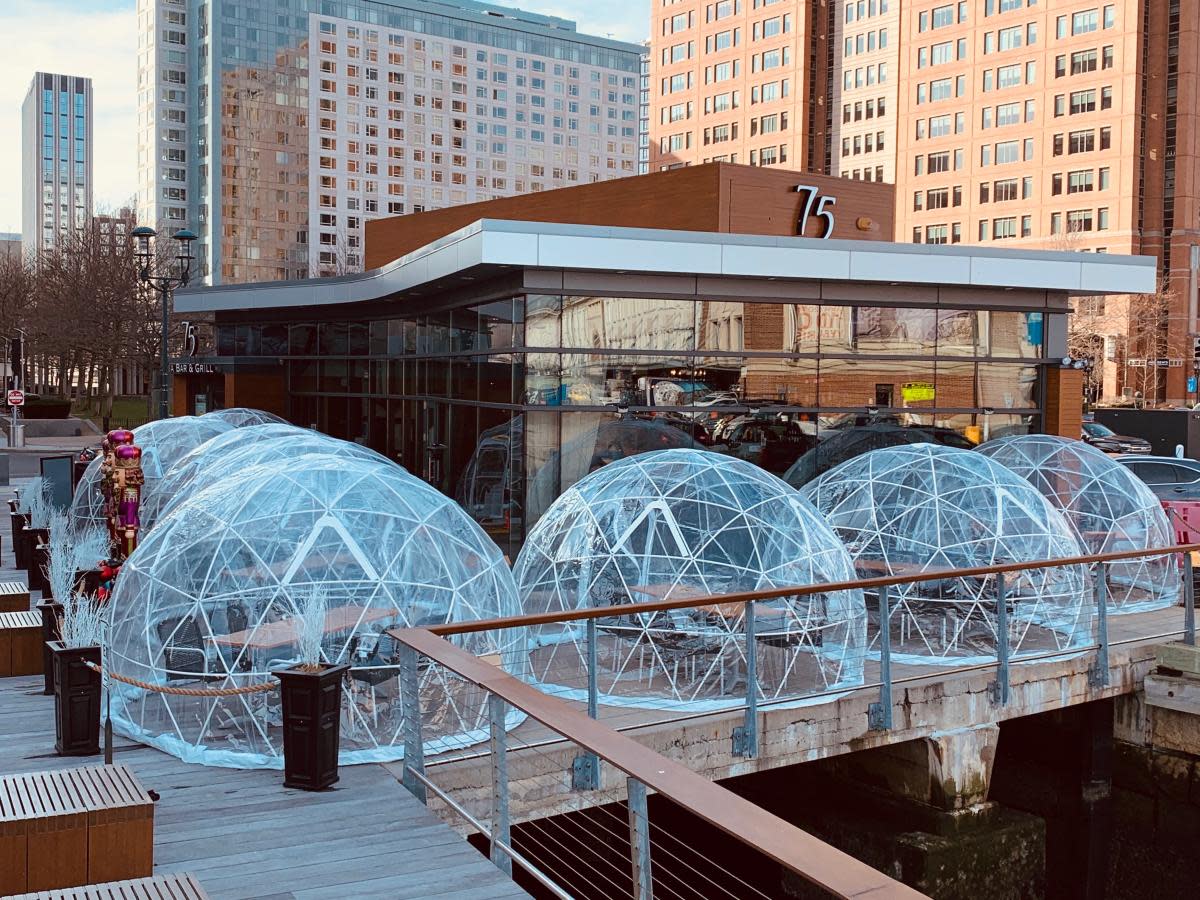 Inn at Hastings Park Inngloo Wonderland
Location: Lexington, MA
Treat yourself to an elegant multi-course meal with some of the world's most celebrated roses at the Igloo Wonderland at the Inn at Hastings Park. Each Igloo features romantic twinkling lights with a faux-fireplace heater and mini speaker.
Learn more here.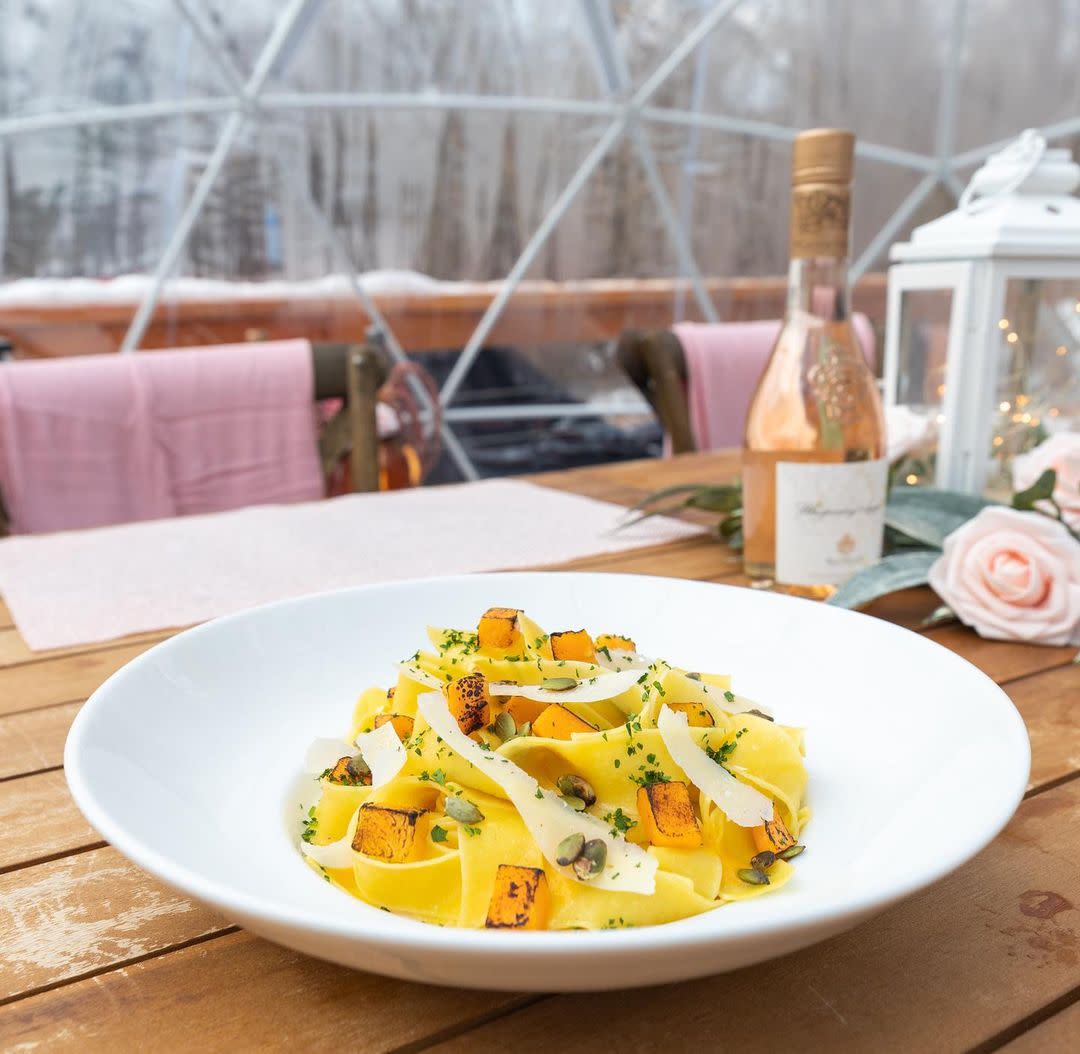 793 Boylston Street

(617) 536-6300
Abe & Louie's sets the standard for the classic American steakhouse, offering unparalleled flavor combinations and undeniably superior service with an air of timeless sophistication. Our signature menu items, such as prime-aged Midwestern steaks and fresh seafood accompanied…
93 Salem Street

(617)723-6733
Located in Boston's North End, Antico Forno is billed as "The Most Authentic Italian Restaurant," and we're hard-pressed to argue. We specialize in pairing Southern Italian cuisine, distinctly fresh and savory, with a cozy mom-and-pop atmosphere, complete with a wood-burning oven…
10 Avery Street

(617) 574-7100
With a downtown location just steps from Boston's lively theater district, the restaurants at The Ritz-Carlton, Boston are perfect for a pre-show dinner or a post-performance nightcap. Bistro fare prepared with an artisanal, farm-to-table touch delights fans of fresh, local…
3 Battery Wharf

(617) 994-9001
Dining at Battery Wharf Grille takes a page from Boston's culinary playbook, offering Battery Wharf Hotel guests and in-the-know locals the opportunity to enjoy classic New England fare with a modern twist on a classic steakhouse with offerings from the land and the sea. Gather…
272 Boylston Street

(617) 426-7878
Featuring authentic, ingredient-driven Provencal cuisine, Bistro du Midi is located at The Heritage On The Garden, with breathtaking views of the Boston Public Garden.
161 Berkeley Street

(617) 542-2255
In the early 80's, I began developing Copley Place here in Boston with several partners from Chicago. We often found ourselves looking for a classic steakhouse—a place with food of the highest quality and superior service. Nothing like that existed at the time and we figured we…
44 Brattle Street

(617) 868-2255
Located in the heart of Harvard Square, Harvest celebrates the modern New England table. We present contemporary New England cuisine focused on the region's freshest ingredients. Tucked along a cobblestone pathway in the heart of the square, Harvest provides a welcome respite…
270 Northern Avenue

(617) 477-2900
Legal Harborside is Legal Sea Foods' 20,000 square foot flagship property on the Boston Waterfront, comprising three floors and three different concepts under one (retractable) roof. You'll find a nod to our heritage on the first floor hull, with a casual menu of seafood…
425 Summer Street

(617) 789-4111
MJ O'Connors offers a lively bar and dining room, with a selection of local and international draft beers, wines by the glass, and cocktails by neighboring City Bar.
3 Mechanic Street

(617) 723-MARE
Mare is not your typical North End restaurant, the menu is light and healthy. It treats all the ingredients with respect in order to highlight their natural flavors and not to cover them up. Further, Mare's Miami cool interior, unbeatable city views and solicitous service draw…
16 Garden Street

(617) 234-1365
Nubar's design is comfortable yet contemporary and rooted in architectural hints of Cambridge landmarks. The dining room and lounge are divided by a modern and linear fireplace, and flanked by groupings of low leather ottomans and tables in dark brown hues, which provide a more…
138 Street James Avenue

(617) 585-7222
Join us at OAK Long Bar + Kitchen, a stunning Boston restaurant in the heart of Back Bay. Sip a hand crafted cocktail. Sample a farm to table American menu featuring local ingredients and purveyors. Savor the dramatic results of an extensive restoration and each thoughtfully…
One Marina Park Drive

(617) 345-3992
Strega has become famous for its dramatic decor, celebrity clientele, unmatched hospitality and most of all, its unforgettable Italian cuisine. Located at Fan Pier in Boston's beautiful Seaport District, Strega Waterfront is certainly Boston's foremost dining destination with…
1 Seaport Lane

(617) 385-4304
Located in the heart of Boston's bustling Seaport District at the Seaport Hotel, TAMO Bistro & Bar is one of the area's most popular venues for cocktails, lunch and dinner. Featuring contemporary cuisine with a distinctive Boston accent, TAMO brings you the best that Boston has…
233 Hanover Street

(617) 742-8240
Tresca offers the space and flexibility to meet all your needs. Let us create your ideal dining experience with customized menus from Executive Chef Richard Ansara. Private and semi-private dining rooms are available to serve from two to 75 guests or a reception for up to 100…