Native American Trail
Memorials, Monuments, Landmarks, and Historic Markers:
Deer Island Native American Memorial: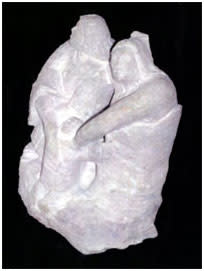 This memorial will be dedicated to tell the story of Native Americans as it relates to the history of the Boston Harbor Islands, including the painful years of King Philip's War and the internment at Deer Island.  The memorial will be built at the Deer Island Water Treatment facility and artist Lloyd Grey-Nessatako, Mohawk Iroquois, was selected for the piece.
Currently, a plaque commemorates and a wayside exhibit interprets the American Indian history of the site.

Harvard University:
Shortly after Harvard's founding an "Indian School" was established and "Native youths were sent to Cambridge Latin to prepare for Harvard, though few actually made it and only one - Caleb Cheeshahteaumuck - earned a degree. In 2011 Australian-American novelist Geraldine Brooks wrote Caleb's Crossing, a work of historical fiction chronicling the young Wampanoag's conversion to Christianity and his Harvard experience." http://harvardmagazine.com/2011/05/pride-of-the-indian-college
Harvard also has a Native American Commemorative Plaque, a memorial to the first Native Americans who attended the college, which is located on north wall of Matthews Hall: ""Here American Indian and English students lived and worked in accordance with the 1650 Charter calling for the education of the English and Indian youth of this country."
Canton Historic Marker: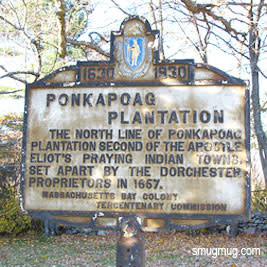 The Ponkapoag tribe of the Praying Indians is commemorated on MA Route 138 with a historic marker indicating the northern boundary of their settlement.  It reads: "Ponkapoag Plantation - The north line of Ponkapoag plantation second of the apostle Eliot's praying Indian towns set apart by the Dorchester Proprietors in 1657." 
Foxboro Historic Marker:
Foxboro erected a historical marker in 2006 which alludes to Native American history there: "On July 13, 1670 chief Squamaug of the Ponkapoags and Metacom (King Philip) of the Wampanoags met in the House owned by Captain William Hudson to discuss the limits of their own jurisdictions.  All parties agreed upon a line between Norfolk and Bristol counties and the towns of Foxborough and Mansfield."  The historic monument in Foxboro is at the intersection of South, Green and Cedar Streets.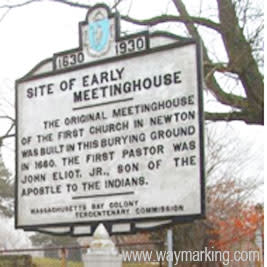 Newton Historic Marker:

At the historic meetinghouse in Newton is a marker which refers to John Eliot's son: "Site of Early Meetinghouse - The original meetinghouse of the First Church in Newton was built on this burying ground in 1660.  The first pastor was John Eliot, Jr, son of the Apostle to the Indians."  The historic marker in Newton is at the intersection of Centre and Cotton Streets.
King Philip's Lookout:
There is a famous granite bluff in Sherborn town forest known as King Philip's Lookout, as the sachem used it to monitor events during King Philips War.  

  
Quincy Chickatawbut Observation Tower and Moswetuset Hummock: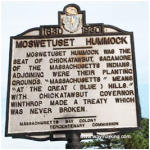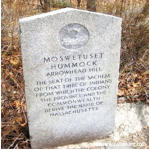 This Tower is named for Chickatawbut, sachem of the 17th century Wampanoags. A short drive from Neponset Bridge is Squantum Point Park. Also in Quincy is Moswetuset Hummock, with historic marker reading: "Moswetuset Hummock was the seat of Chickatawbut, Sagamore of the MA Indians. Adjoining were their planting grounds. 'Massachusetts' means 'at the great (blue) hills.' With Chickatawbut Governor Winthrop made a treaty which was never broken."
More Tercentenary Commission Signs: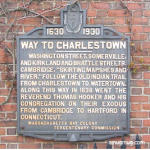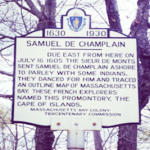 Rockport - Champlain's initial contact with Indians as he began to map all of Massachusetts Bay.
Cambridge - Way to Charlestown           
Eliot Square in Roxbury:
Eliot Square is named after John Eliot, and at intersection of Roxbury, Dudley, and Centre Sts there is a bronze plaque with likeness to Eliot.  The memorial includes the inscription: "The hill was named in 1849 for Reverend John Eliot (1604-1690) the second minister of the First Church in Roxbury.  Eliot, known as the 'Apostle to the Indians,' with the assistance of Job Nesutan, translated the entire Bible into Massachusetts Algonquin in 1663. 
Founders' Memorial, Boston Common:
1930s Founders' Memorial on the Common depicts early English Settlers arriving in Boston and also includes Native Americans bearing witness to the scene: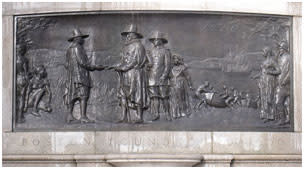 Massachusetts State House: 
Above the Hall of Flags is a mural of John Eliot preaching to the "Praying Indians"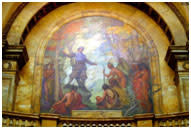 Historical Societies
Massachusetts Historical Society:
MHS has a rich collection of Native American Photography and also possesses a copy of John Eliot's translated Bible http://www.masshist.org/photographs/nativeamericans/
http://www.masshist.org/photographs/nativeamericans/essay.php?entry_id=72
http://www.masshist.org/photographs/nativeamericans/img-viewer.php?item_id=477
Bowl attributed to the Wampanoag:  http://www.masshist.org/database/2310
Indian archer weathervane:  http://www.masshist.org/database/1769
The "Eliot Indian Bible": http://www.masshist.org/database/54
Their online catalog contains records for manuscript, print collections, and other materials relating to Native cultures here in the Massachusetts area. In addition to searching by author, tribe, and event, some of the Library of Congress subject headings (the scheme we use) which you might find useful include:
"Indians of North America-New England" (103 results)
"Indians of North America-Massachusetts" (75 results)
"Indians of North America-Missions" (215 results)
"King Philip's War, 1675-1676" (116 results)
http://www.masshist.org/abigail
MHS library is open to the public free of change and all that is needed to gain entrance is a government-issued ID such as a driver's license or passport.
New England Historic Genealogical Society:
2008 NEHGS published "Indian Deeds: Land Transactions in Plymouth Colony, 1620-1691", by Jeremy Bangs.  First published in 2002, this important genealogical work presents over four hundred transcriptions of early deeds of interest to Mayflower, Plymouth Colony, and Native American researchers. This fully indexed book includes a much-needed re-evaluation of land ownership and the relations between early-seventeenth century European settlers and their Indian neighbors.
In addition, NEHGS has published paperback reprints of several classic works related to Native Americans:
"Dictionary of American-Indian Place and Proper Names in New England", written by R. A. Douglas-Lithgow, in 1909, with an added foreword by David Allen Lambert, 2012.  For those who reside or come from New England, Native American names for towns, streets, rivers, parks, and other locations are a daily part life. Whether you currently live in New England or have your ancestral roots there, this dictionary of American-Indian names can go a long way in helping with your research.   In this dictionary you will find a(n): 
Introduction to New England tribes
State-by-state listing of place names, including some now extinct
List of prominent 17th-century New England Native Americans
Enumeration of New England tribes
List of words from the Abenaki and Massachusetts (or Natick) languages
This book helps to identify specific locations within New England. It can also help to interpret records like early deeds. The book is considered mandatory to the amateur and professional historian interested in pre-colonial New England and native cultures.   As the author comments upon in his introduction, and is reiterated in the foreword, "these words represent almost all that remains of the aboriginal inhabitants of this country,-a brave, noble, and patriotic race who, opposed by the overwhelming and heedless forces of civilization, did everything the bravest and noblest could do to obey the first law of Nature[:] self-preservation." Continuing, he marvels that so many names have survived considering the local Indian tribes had no written language. This dictionary is unique, and undoubtedly considered a blessing by many genealogists searching through place names of New England.
Not published by NEHGS, but written by the former chairman of the NEHGS Board Eric Schultz, is "King Philip's War".   King Philip's War--one of America's first and costliest wars--began in 1675 as an Indian raid on several farms in Plymouth Colony, but quickly escalated into a full-scale war engulfing all of southern New England. At once an in-depth history of this pivotal war and a guide to the historical sites where the ambushes, raids, and battles took place, the book King Philip's War expands our understanding of American history and provides insight into the nature of colonial and ethnic wars in general. Through a careful reconstruction of events, first-person accounts, period illustrations, and maps, and by providing information on the exact locations of more than fifty battles, King Philip's War is useful as well as informative. Students of history, colonial war buffs, those interested in Native American history, and anyone who is curious about how this war affected a particular New England town, will find important insights into one of the most seminal events to shape the American mind and continent.
Our NEHGS Chief Genealogist, David Allen Lambert, mentioned in several points above, is the official tribal historian for the Massachusett Tribe in Boston.  The Massachusett is a tribe of Native Americans who historically lived in areas surrounding Massachusetts Bay in what is now the Commonwealth of Massachusetts, in particular present-day Greater Boston.  David works with the tribe on a number of historical projects and among his many hopes is the task of bringing much of the genealogical data described herein to a digital, searchable format on our NEHGS website at AmericanAncestors.org.  No timeline currently exists for the delivery of this data to such a format, however, it remains of extreme interest to our web content managers and will hopefully become a priority item in the not-too-distant future.
Natick Historical Society
Housed at the Natick Historical Society is a permanent exhibit on John Eliot and the Praying Indians.  Eliot, a Puritan missionary, founded Natick in 1651 as a settlement to convert Native Americans.  For 20 years Eliot instructed and preached to the Native Americans, establishing a government and school and bringing the gospel to American Indians.  Ultimately, the Natives at Natick were interned on Deer Island after the onset of King Phillip's War.  www.natickhistoricalsociety.org/eliotsindians/
Chelsea Historical Society:
Chelsea Historical Society contains in-depth history of the Winnisimmet tribe, including a list of influential Native Americans:   http://olgp.net/chs/people/indians/indians.htm
Medfield Historical Society
This Historical Society includes a history of the town's involvement in King Philip's War.
The towns of Avon, Belmont and Holbrook have historical societies and websites that also touch upon Native American roots and culture in those areas.
"The Greater Boston Convention and Visitors Bureau (GBCVB), in collaboration with the Massachusetts Office of Travel and Tourism (MOTT), assisted in a recent Native American Trail, an initiative of UMass Amherst and the MA Commission of Indian Affairs.

The GBCVB is grateful to the area institutes and member organizations that have augmented our research efforts.  We collected information from the National Park Service and Boston Harbor Islands Alliance, the Massachusetts Historical Society, the New England Historic Genealogical Society, the Museum of Fine Arts, Harvard University, the Harvard Peabody Museum, Boston Children's Museum, and the North American Indian Center of Boston.

In addition, the GBCVB has studied the Greater Boston region looking for any memorials, historical markers, and tribal sites that may exist, and reached out to various historical societies to inquire about artifacts, photos, archives, and exhibitions that may enhance the Native American Trail Project. "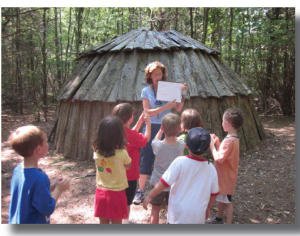 Artifacts and Preservation:
Sharon Moose Hill Program:
Moose Hill includes an authentic Wigwam, as well as other artifacts from the Wompanoag tribe.  The school program description reads: "come and visit Moose Hill and view the forest and fields as local Native Americans did - seeing the earth as your source of food, medicine, and shelter.  Listen and learn from a legend told many years ago and visit a Wigwam.  Learn how knowledge of the forests and fields was necessary for survival and see if you can find what Native Americans used as a cup, bowl, and hair-brush." For more, read the full brochure (pdf).
Westwood Oven Mouth:
Oven Mouth, also known as Devil's Oven, led to an Indian Cave that was active during the colonial period.  A historical marker near the intersection of High Street and Lakeshore Drive in Westwood indicates the location of the former cave.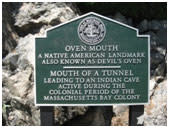 Weymouth: 
An Indian dugout was discovered in 1965.  As the Great Pond was drying up the intact dugout was found at the Pond's southern end.  It now resides in the Weymouth Historical Commission for preservation and safekeeping.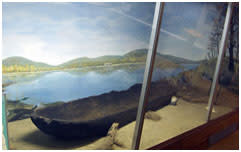 North American Indian Center of Boston
Boston Harbor Islands
Mike Dyer, mdyer@islandalliance.org, Giles Parker giles_parker@nps.gov
The entire National Park Area should be included as part of the trail. Prior to European contact, American Indians lived on many of the islands from early spring to late autumn. Beginning in 1675, American colonists engaged in a major war with aboriginal people in the region, which began a tragic time in the life of American Indians including internment on the islands.
The legislation establishing the Park recognized the importance of these sites and stories. For individual sites within the park....
Deer Island - A mainland peninsula accessed by car from Winthrop,  plans are in place for a memorial which is not yet completed. Currently, a plaque commemorates and a wayside exhibit interprets the American Indian history of the site.
Spectacle Island - Approximately 15 minutes from downtown Boston by park ferry, an exhibit in the Visitor Center chronicles the Native America presence on all of the islands, especially Spectacle.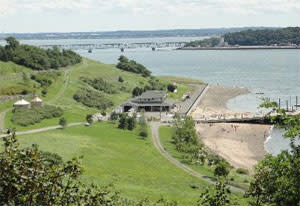 Peddocks Island - Approximately 20 minutes from the Hingham departure point by park ferry, an orientation panel provides background on Native Americans living on the island.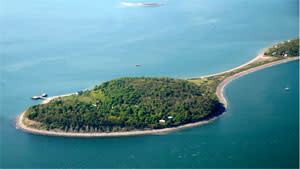 Museums
Cyrus Dallin Museum in Arlington:  Located in Arlington, where Dallin lived for a long period of his life, this museum celebrates an artist best-known for Native American sculptures.  Dallin's four piece equestrian series culminated in Appeal to the Great Spirit (1909), perhaps his most well-known piece which is located at the Museum of Fine Arts, Boston. 
Dallin's piece Menotomy Indian Hunter is located near Arlington Town Hall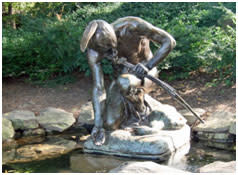 Museum of Fine Arts: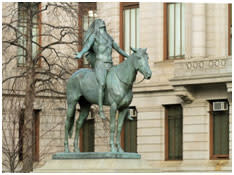 MFA Huntington Avenue entrance
The MFA has an entire gallery dedicated to showcasing Native American objects representing the Northeastern Woodlands from Maine to the Great Lakes.  Their selection of Native American objects from New England is small and can best be accessed on their website.
Peabody Museum of Archaeology & Ethnology, Harvard University:  Pamela Gerardi, Director (Research & Collections, development), Patricia Kervick, Archivist gerardi@fas.harvard.edu kervick@fas.harvard.edu
The Peabody Museum has a large collection of Native American materials from throughout the United States, much of which is available in a searchable online database: http://pmem.unix.fas.harvard.edu:8080/peabody/
The Peabody has several exhibitions of Native American works. Check the website for the most up to date listings. 
Digging Veritas (the exhibit on Harvard's colonial-era Indian College); there is also an online exhibition for this.
Hall of the North American Indian has a section devoted to the North East. 
The Legacy of Penobscot Canoes: A View from the River
Wiyohpiyata: Lakota Images of the Contested West features 19th-century colored drawings by Plains Indian warriors, accompanied by historic Lakota objects and contemporary works by Lakota artist and co-curator Butch Thunder Hawk.
Boston Children's Museum: The Museum's Northeast Native American Collection is comprised of more than 4000 artifacts. Although unknown to many scholars, this may be one of the finest collections of Native artifacts from the Eastern Woodland tribes, composed of objects that range from pre-contact archeological materials to the present day. Although many museums stopped collecting in the 1920s, The Museum's Native collection has continued to grow. A grant in the late 1970's allowed the Museum to purchase contemporary Native Arts, allowing us to trace the continuity and changes in the art forms of many cultures.
The Museum's Native holdings from outside of the northeast, numbering approximately 3000 artifacts, contain representative samplings of objects that express the range of daily life activities of non-woodlands Native American cultures. Artifacts include cross-tribal examples of the same forms that appear in the Northeast Collection such as ring and pin games; objects that were the source for traditions which were or are integrated into Northeast cultures, such as the Plains feather bonnet and powwow drums; a sampling of objects that document contemporary life, such as Pow-wow T-shirts, and objects made by world-renowned artists, such as Maria Martinez, or objects owned by culture heroes such as Sitting Bull. http://www.bostonchildrensmuseum.org/exhibits-programs/collections/native-american-collection
Beyond Greater Boston:
King Philips War Monument:
Located in Sudbury, there is a large monument at Wadsworth Cemetery that commemorates colonists that were killed during the conflict
Massasoit:
There is a large memorial statue to Massasoit in Plymouth, and also a granite rock formation likeness to him known as Profile Rock in Freetown, MA
Grafton Hassanamisco Indian Museum:
As the principal repository of Nipmuc history and culture, the Museum represents a rare and valuable cultural resource.